Will you help me pick the title for my book?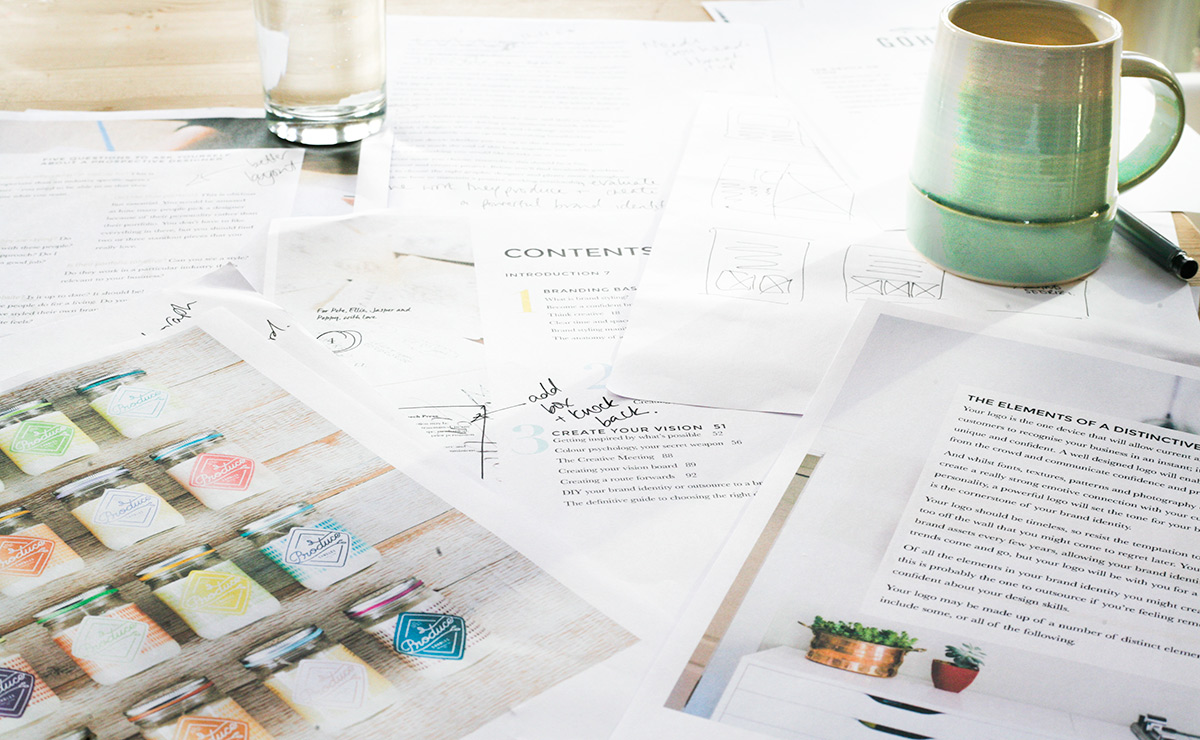 I found this on Pinterest today, it comes via Awfully Big Adventure blog. It pretty much sums up the emotion I'm feeling now whilst working on the design of the book. The full gamut within the hour and then on a rotating basis...
Moving forwards... I'd really love you to help me pick the title for my book.
I've had this book in my head for so long. And last year was just the right time to start writing. Over the course of a few months, every lunchtime whilst Poppy napped, I would pull out my laptop and write. The words came easily and there was none of the angst you might expect of someone writing their life's work. None of the pained evenings; the writers block or the frustration at not being able to explain it all clearly. Just inspiration and a steady flow of words.
It was amazing.
A book on branding for small business owners
Mid way through writing I went out for lunch with a few fellow creatives and conversation turned to a set of logos an interior designer had been sent and her disappointment, confusion and general underwhelm at them. Without even seeing the samples I knew the issue straight away. She had worked with the wrong person. Someone who had been picked out of loyalty as a friend rather than on the strength of his portfolio. She was frustrated, bewildered and losing time.
The rebrand was holding up the website; the lack of website was stopping her getting business. It's a familiar story with an all too familiar ending. She felt she needed to find more direction, give him the answers, tell him what to do. Those of you that design brand identities for a living will understand that actually, that's the last thing she needed to do. What she really needed to do was get the designer to take a step back and create a strategy; create a vision for the brand that sent out the signals that this designer was looking for.
I sent Daisy over the first couple of chapters of my book to help her understand how to focus, plan and commission a brand identity that reflected her business goals. Armed with the first chapter of my book Daisy gained clarity, momentum and a clear route forwards. In her own words:
I love the relaxed, easy, fun style of your book. It's clear, well structured and very thorough without being too technical or patronising. It kept me engaged and has inspired me to create a new website that better reflects and communicates what my design style, service and brand is all about... It feels as though you wrote this book specifically for me, and I'm sure many others will feel the same.
That was just what I needed to hear! I knew from experience that there are lots of Daisy's who want to get their branding right but don't know where to start and this was a sign for me that I was on the right track.
I've written the book to help those of you that are rebranding or starting a business work through the process of creating or commissioning a brand identity from start to finish with confidence and clarity. Getting your branding right doesn't need to be about pot luck, it doesn't need to be about throwing lots of money at it either (I could share plenty of horror stories of people paying a lot for very little...): it's about making smart, empowered choices. It's about creating something that's authentically, distinctively you.
I've peppered the book with incredibly inspiring examples from some of my favourite brand stylists as well as beautiful photography and engaging content. This is going to be a business book with a difference.
And so to the title.
How to Style Your Brand: Everything you need to know about creating a distinctive brand identity that'll get your small business noticed is the title I've had in my head since the project began. It neatly sums up what the book is about; it gets over the issue of the Branding Police whinging about the fact that branding is more than a logo (of course it is, but I don't cover brand strategy in the book...); it feels right. But do you get it? Would you buy it? Is it compelling?
The Compelling Brand: A step by step guide to styling a distinctive brand identity that'll get your business noticed is a punchier title, it's more, erm, compelling but I don't love the fact that the title alone quite possibly implies that I'm talking about building a brand rather than styling a brand identity. I'd love your thoughts.
Be distinctive: Everything you need to know about creating a brilliant brand identity for your small business I love that this links back to my strap line and core values. I think every small business owner should be distinctive, and with a little savvy it's well within the reach of everyone. My book will help you be distinctive. But does it promise 'purple cow' type brand strategy content rather than a book on how to create or commission a knockout brand identity?
Have your say!
Please share your thoughts below and I would love it if you'd vote for your favourite title. Which of the titles above would make you most likely to buy the book? [yop_poll id="-1" tr_id="[yop_poll id="2"]"]