The dreaded work life balance, three years on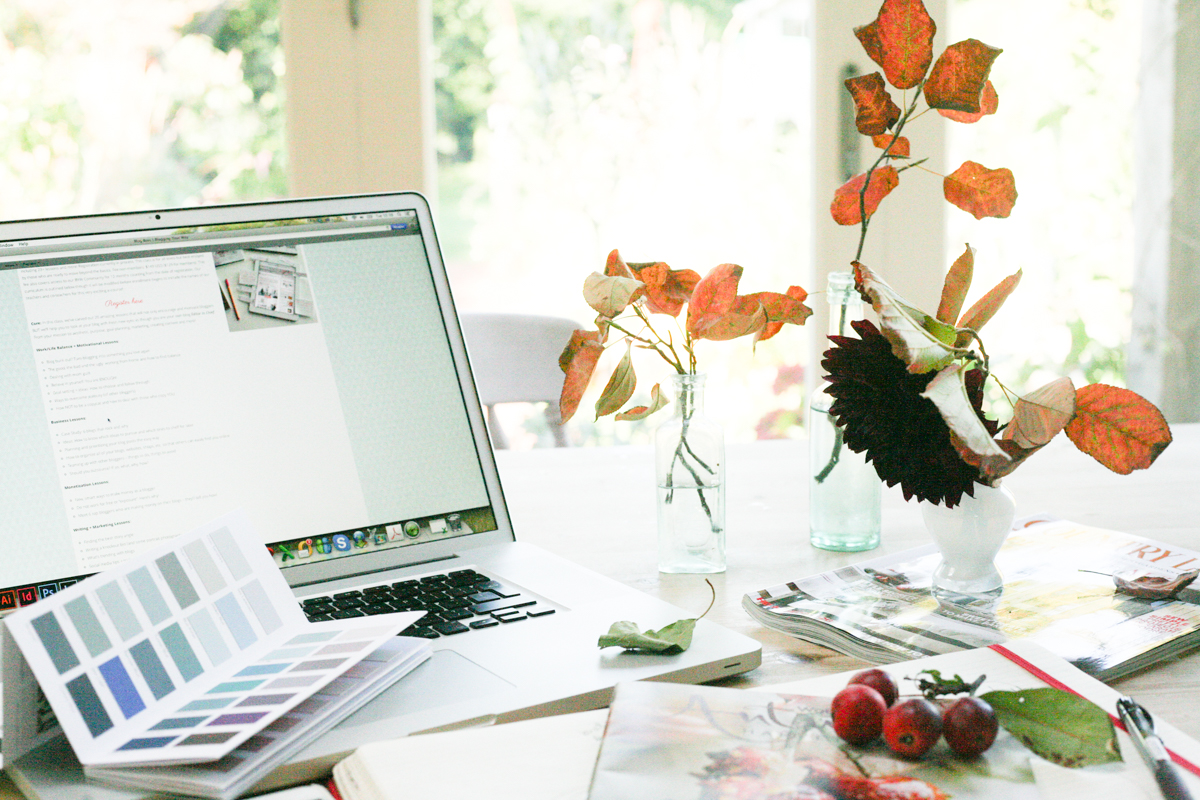 Today is my last day of teaching the Blog Boss e-class and one of the lessons I've really enjoyed working on is Dealing with Mom Guilt. As a mum of three, aged between ten and 18 months, I've certainly experienced my fair share of mum guilt. Working on the lesson reminded me of a blog post I wrote back in May 2011, 18 months before I sold my business, about what work life balance meant to me. At the time I felt very torn. Realistic enough to know that I was doing my best, but frustrated that I wasn't with my children more. I was short on time and frankly, just trying to do my level best with the time I had. Three and a half years, a new baby and a lovely long sabbatical, later and I was interested to see how things had changed since I wrote that first article. Skip to the bottom of this post for the original text...
I'm now working on a very part time consultancy basis. I don't currently have childcare and so I work whilst the big two are at school and the baby sleeps. It works really well for me. I get to stretch my entrepreneurial mind but I also do the school run every day, spend my mornings with the baby, be there at the school gates, host playdates and just be a mum. When I have a few days of consultancy work I can fit that in around my husband's days off so there are no nursery routines to fit into and no pressure to take on work just to pay for childcare.
What strikes me most of all is that whilst I (joyfully) no longer have the overheads and immense financial pressure I used to, some things haven't changed. I still love what I do and I still have that drive, ambition and big vision to get out there and make things happen. This can be a source of tension for me but it also means that I'm super focused and efficient. I am still committed to being a mum first and foremost and fitting my work around the children.
I'm still realistic enough to temper my expectations of myself with the time I have available. I set myself ambitious goals that I know will stretch me, but I'm also kind enough to myself to make sure that when the dreaded comparison syndrome kicks in to remind myself of what's important to me and recognise that I can't do it all. Most of all I love the discipline that these time constraints give me: they force me to only take on projects I'm truly excited about (as you'll have seen from my last posts - working with Holly Becker and Rona Wheeldon) and that are worth all of the energy, passion and experience I pour into all of my work.
Interestingly I do have more time to keep on top of the school admin - requests for fancy dress, club letters and so on, although I'd be the first to admit that my house was cleaner and tidier when I wasn't working. I'm not sure I do feel guilty about working any more because I'm fitting it in around the children and I love that I don't have regular childcare, although as Poppy turns two in February and starts to think about dropping her naps I'm going to need to start nursery up for her.
Right now I'm happy with the balance. I can't say that every day is easy, but every day I'm learning about what works for us and adapting to our new chapter. I love what I'm doing with my business, my children and husband are happy and I'm contented. I'm not sure you can ask for much more than that.
My view on work-life balance and how I managed in 2011
Like many of the women I meet, having my daughter was the turning point for me in realising that I wanted to get off the corporate treadmill and start my own business.
Six years ago, at the age of 26 I threw open the doors to my business; searching for a more rewarding, fulfilling role that I could build around my family commitments. I wanted to get back to the things I was good at, be my own boss, call the shots and start something that would give me more financial freedom than being employed could.
I guess when I put it like that it's been a real success. We have a great reputation, some really inspirational clients and a fantastic team. I genuinely love what I do and I find my work fulfilling and rewarding. The business has grown by 30% over the past year and whilst I'm unlikely to ever be a millionaire I'm really happy with the balance between my income, the work we're doing, the team we've built and the hours I put in to the business.
I'm simply not prepared to work 70+ hour weeks and sacrifice many of the things that are important to me in the name of business growth or so-called financial success. There's more to life than work, and I think that's something that us women (and especially mums) that run businesses should give ourselves more credit for.
That said, running a business and being a good parent isn't easy. My own mum gave up work when she had me and has only just picked up her career in the last ten years. She devoted a huge part of her life to bringing us up and although I didn't appreciate it as much as I should have done at the time, I realise the value of what she did for us. I often feel guilty that I haven't chosen to do the same thing for my own children.
Having my first child at the age of 25 was always going to mean that we weren't as financially settled as many of my friends ten years older than me. We chose to live in one of the most expensive areas of the country (Surrey) and are so settled that I can't imagine ever moving from here. But that does put a lot of pressure on me financially. My husband is a policeman, so it really is down to me to earn (in three days) the bulk of our income.
I'd be kidding myself if I didn't feel enormous pressure to ensure the business performs financially.I don't just have my own family to worry about, but a team of 7, an office in Guildford and some pretty staggering overheads. Some of the team are starting to have their own families, there are mortgages to pay and rents to commit to and people who rely on my business for their livelihood. Sure, they could get other jobs but these people have become a part of my life and I don't want to let them down. I wonder if someone who isn't a mum feels that same responsibility towards their team?
I also, like any working mum, am constantly juggling the demands of work and home life. Am I spending enough time on the business? Am I being fair to the team? Am I doing myself an injustice by not working today? And by the same token, have I spent enough time with the children today? Should they have watched TV while I wrote that blog post? Shouldn't I have been just playing puzzles with them instead? And so it goes on…
I'm not sure that I'll ever catch up with the reams of admin, letters, permission slips and requests for money that come home from the school and various clubs. There is never enough time in the day. And whilst I only officially work 3 days a week, I will often catch up on emails or blog posts in the evening or – until a few months ago – while my youngest sleeps at lunchtime. I have no idea where that time's going to come from now!
But enough moaning. I've developed a business that I'm passionate about, with a team I love, doing work that inspires and motivates us. We've sought out the types of clients that we really want to work with and I am now financially secure enough to live in a lovely house in a lovely village and get to every assembly or sports day without feeling the need to answer to anyone.
I do feel guilty that I work, but that's a whole other story! I would love to devote myself to my children full time in the way my mother did. But I think you're damned if you do and damned if you don't. As my own mum said to me when I'd just started my business "I don't think you ever look back and feel you got it right".
And on that note, now is probably a good time to tell you that it's half term next week so I will be spending time with the children, putting my out of office on my emails and just winding down from a very exciting half term! I won't be blogging next week but I'll be back with you in a couple of weeks. Enjoy your weekend.