Social Media for Florists Workshop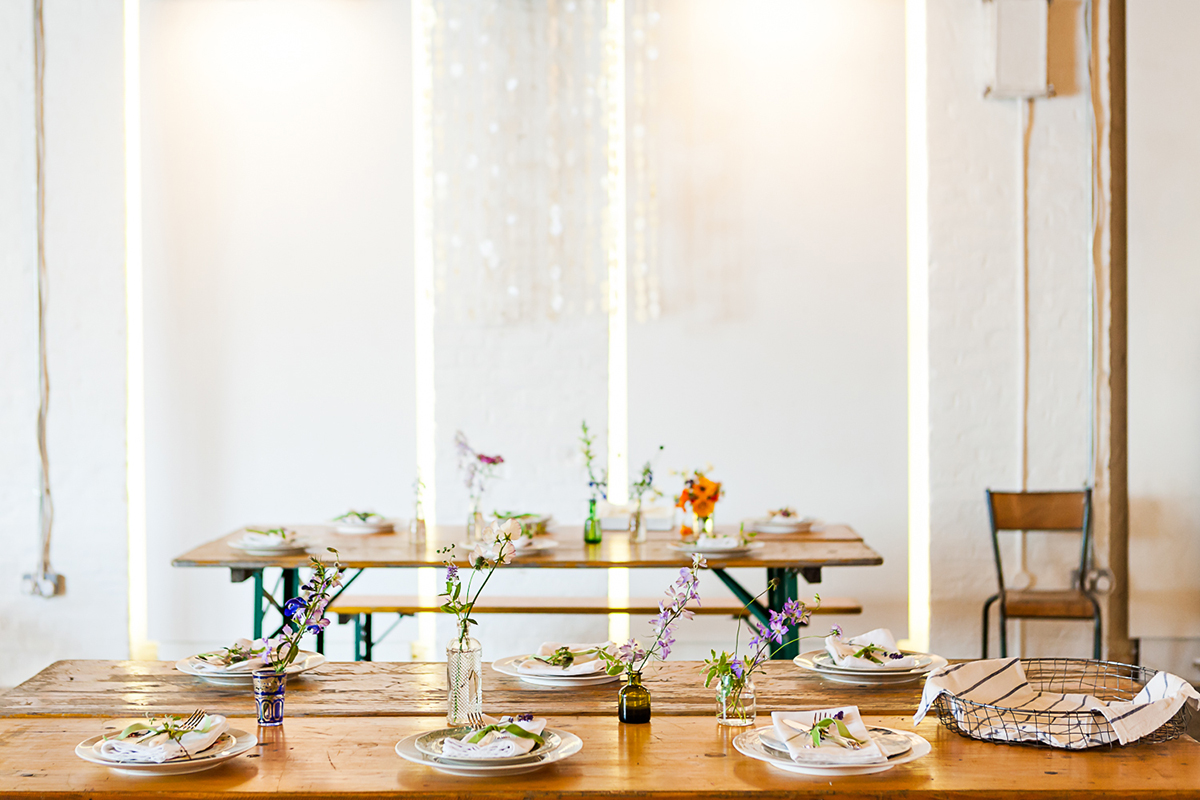 I'm so excited to be able to share details of the Social Media for Florists workshop I ran with Rona Wheeldon from Flowerona a few weeks back. I love running workshops and so I was thrilled when Rona invited me to work with her on her very first Flowerona event. As you'll see from the pictures below, it was an absolute feast for the senses! Packed with colour, gorgeous flowers, delicious food and from what our guests told us, some thoroughly inspirational content.
We wanted the day to be both inspirational and informative and the plan was to take our florists out of their natural environments, give them a complete break from the day to day and encourage them to think about how they could use social media to grow their businesses.
We kicked off the event by focusing on brand. In particular how to create a clear focus that would cut through the noise that's out there and build a following. Those of you that have been to one of my workshops in the past won't be surprised that (of course) I had the students creating mood boards to help them clarify their creative style and visualise what their brands stood for.
After the branding session we took each channel in turn, Facebook, Twitter, Instagram, Pinterest and Blogging and encouraged our students to think hard about how they might use them to grow their businesses. Rona shared her top tips and gave them lots of advice that would both save time and ensure that their activity had the impact that was needed.
Judging by the feedback we received both on the day and after I think we certainly achieved what we set out to. There are definitely a couple of things I'd do differently next time but overall we were both so pleased with how the day went.
The venue, Brixton East, was such an inspirational and easy place to work with; the food (we'll get to that later) was incredible and all of the florists were just so lovely.
I'd put a lot of time and energy into styling and branding the event and I was genuinely touched that it was not only noticed but appreciated by people who spend their working lives making venues look beautiful.
I'd picked flowers from my garden to style the lunch tables and the studio space was full of buckets of British flowers thanks to Zest flowers.
The goody bags were incredible! Packed with some very gorgeous gifts from some very generous companies (see below for details...).
The details
I really love creating a vision for an event and always go to town when I organise the childrens' birthday parties so this workshop was another opportunity to go wild with the styling. As the date was around midsummer we decided to channel an English garden theme and pulled that through from the styling of the table settings to the flowers around the venue and the design of the handouts and slides.
It was a lot of fun (and a lot of work) to make sure that every last detail was just so and I think we might well have had the most beautiful slides I've ever seen. And as for the handouts, well, they were never going to be black and white photocopied pages of A4 were they?
Anthropologie generously lent plates, glasses, mugs and vases which I carefully selected to work with both the style of the venue and theme for the day. We were also lucky enough to be sent fabric from Designers Guild as well as bucketsful of British flowers from the lovely Graeme at Zest Flowers from Covent Garden Market.
We decided to introduce a practical styling session to overcome that post-lunch slump that trainers and teachers often dread and it was so inspiring to see the different florists celebrate their own creative styles with the various vignettes they created.
The food
We worked with Maddie Hatton on the food who was in.credible. Seriously, she was amazing. She took my brief for a wholesome, indulgent and flavour packed lunch with a nod to the floral theme and totally ran with it. She designed the most gorgeous menu with delicious elevenses (don't you love that word?) and a lunch I'm still dreaming about...
The elevenses, oh my, those elevenses. Lemon and pistachio loaf with lemon verbena syrup anyone? Ok, how about orange and mascarpone cake with orange blossom. Or lemon and lavender bars? Yum.
Not only did Maddie cook an incredible array of delicious and healthy food, she also styled it to perfection, bringing crates, cake stands and even plants she'd grown herself as props. That was something I hadn't expected and as I came downstairs I just thought "Wow!"
Seriously, that cake. Plates and glasses from Anthropologie added a lovely touch of interest to the table. And how cute are Maddie's seedlings in those terracotta pots?
Above: Goats cheese and red pepper frittata and the most fluffy and zingy green couscous with radishes and feta. I could eat like this every day.
Maddie even brought her own antique cutlery and ribbon.
Cocktails and a mingle were much needed at the end of the day and everyone had fun making up a Hendricks Summer Punch.
I had an absolute blast working on this event and it's really got me thinking about collaborating on more events in the future. There's something really inspiring about working with someone who's an expert in her field and creating something together that you're really proud of.
Rona was such a delight to work with and we really brought out the best in each other. That lady is so well connected and knowledgable about the industry, she made the whole event a real success. And although we were shattered after two very long days of setting up, running the workshop and clearing away we were both talking about when to run our next workshop on the way home.
I've booked the venue for a Colour Psychology workshop on 30th September and Rona and I will be running our next Social for Florists event on 1st October so if you'd like to hear more details please do join the mailing list and I'll make sure you get an invite.
Lots of love and thanks go to the companies who very generously gifted and lent us items for the goody bags and styling session. We really couldn't have done it without you. Thank you to Anthropologie, Bluebell Gray, Cutture, Designers Guild, Emma Ball, Jane Means, Illumens, Original Beans, LSA, Rosehip, Serax and the lovely Graeme at Zest Flowers.
Photography by Katie Spicer, one thoroughly phenomenal lady. Thank you for capturing the magic of the day Katie and for all your hard work throughout the two days. Food styling by Maddie Hatton and Event styling and design by Fiona Humberstone
** See Rona's writeup of the day at Flowerona.com