"Oooh! I love your card" How to create a business card with impact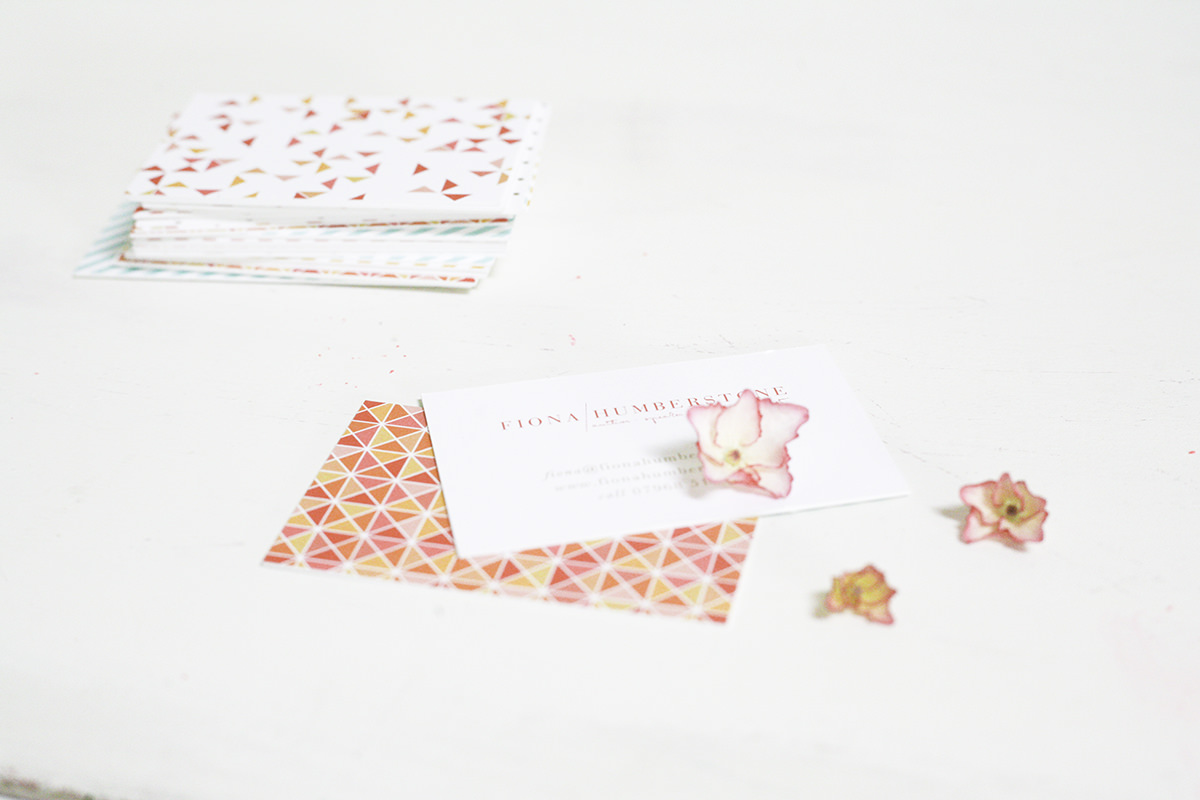 Whatever you do for a living, your business card is probably your most essential piece of kit. It's the one thing we all use, whether you're a prolific networker or you prefer to spend most of your working day in your studio. A great business card will open up opportunities, provide a talking point and will certainly make you, and your business, memorable. When you've had a great conversation with someone isn't it lovely to hand over a card that really makes a positive impression rather than a functional piece of card with your contact details on? So instead of settling for something mediocre, create a splash with a unique hand finish, a pop of pattern or an illustration that creates a talking point.
Here's how.
The absolute essentials of business card design
Less is more when it comes to creating an impact. You don't need to clutter up your card with all your social media profiles (they're on your website aren't they?) so pare information back to the basics: your name, company name, email address and website address are essential. Ask yourself what else you need? A telephone number is usual but by no means essential, particularly if you prefer to be contacted via email.
Think in terms of creating three sections, usually your logo and strapline; your name and job title and finally your contact details. Cluster information together to make your card easy to use and a pleasure to look at.
Keep the font small but legible: around 8-9pt is usually ideal, preferably no larger than 10pt unless you work with a group of clients you know have poor eyesight.
Business Card by Making Waves
Try and find a way of aligning at least two of the elements to bring an element of cohesion and style.
Where you can, create a visual link to the reverse.
Business cards usually have a finished size of 85x55mm or 50x90mm finished size in US. There's no reason yours needs to conform to those dimensions if you don't want it to, but it's nice to know where you're starting from. Add around 1.5mm 'bleed' to each edge (ask your printer for advice) to allow for cutting and trimming and take your pattern or colour right up to this line. Leave a gap of around 5mm from each edge for any vital text: this allows your design to look balanced and professional.
Business cards are usually printed on thick stock: anything from 300gsm up to a very chunky 600gsm. The thicker the better in my book, it makes a great impression.
Creating a card that makes you stand out
Getting the fundamentals in place is important, but if you want to create a card that really makes a splash take inspiration from some of the cards below. What would work for your business?
Get creative with the format
Think cutout, folded, popup or punched. And who says business cards have to be rectangular?
Ayres Photography by Braizen |  Style and Pepper | Fold It Up Unique DIY Business Cards by PapernStitch | Scalloped Cards for The Millswyn (Gorgeous and irritatingly no one to link it to despite my sleuthing...)
Hand finish a card for the personal touch
Surely a must do if you're in a crafty creative industry? Think washi tape, hand or machine stitching or embellishments that add personality and character.
Letterpress Cards Finished with Washi Tape by Sodapop | DIY Stitched Business Cards Made By Andi
Stamp all or part of your card
And be imaginative with what you stamp onto: who says it needs to be on white card? Kraft card, fabric or even plastic can work.
Paper Sushi/ Orange Cloud stamp via Paper Sushi on Etsy
use the back to add impact
Add patterns, illustrations, block colour, quotes or photographs to show off your work and create a talking point. Companies like Moo let you add as many different designs for the reverse as you like so get creative and experiment! (By the way, the link to Moo will give you a 10% discount for your next order and I'll get a little thank you too if you use it...)
Hand Finished Neon Brushstroke Cards by Bonnie Tsang via Instagram/ Pinterest | Holli Thompson | DIY Edge Painted Business Cards IS Creative Studio | Sea Light Studios by Braizen
Invest in something different
Letterpress is still oh so desirable right now (and something I plan to use for my Brand Stylist business cards just as soon as budget allows). You could also think about embossing, foil blocking or edge painting your cards. And there's no reason you can't paint the edges of your cards yourself: you just need to make sure they come interleaved (with pieces of paper between each card) and clamp them tightly together while you spray, paint or colour with a highlighter pen. Do test out on a small batch first: I didn't use a clamp and mine weren't interleaved and the result wasn't pretty...
Tiny Notecard Business Cards by Oh Hello Friend |  Kleines Schaf | Cutout Wallet Style Cards for Impact Salon by Creative Suitcase | Handmade Furniture Popup Cards (**irritatingly the link I have for this isn't credited. I'd love to link back to the original designer if you know where I can find them!**)| Foil blocked and embossed cards for Samantha Pattalo by Braizen
Add a personal touch
I just love cards that extend their owners' friendly and welcoming personalities to the design. How could you engage your prospective clients with your card?
Atelier cards via Melissa Noucas @mnouc on Instagram | Kathryn White via Simple Pretty | Jared Andrew Schorr | Quinn Letterpress Calling Cards by Inhaus Press on Etsy
Play with scale
Your cards don't need to be politely ordered and quiet, have fun with hand lettering or paint to create a splash! I love the impact these cards make and the hand lettered typefaces just add expression and warmth don't they?
Alice Gao via DolcePress | Sara Platt via CottonFlowerPress | Kate Moore by Kate Moore (calligraphy by Justine Ma) | Frou Studio | Molly Jacques via Oh So Beautiful Paper
OVER TO YOU
What would you add to this list? How did you create exceptional cards for your business? I'd love to hear. Please do share your ideas in the comments section below.
Are your cards full of the wow factor?
If you have a set of cards that are packed with personality please do share them! My plan is to create regular posts packed with business card inspiration. You'll find heaps more gorgeous cards on my Pinterest board.
You can post to instagram with the hashtag #thebrandstylist and tag me @thebrand_stylist or tweet me @fionahumberston. I'd love to see them, and who knows, they may make it onto this blog or into my book?!