How to Style Your Brand: A Sneak Preview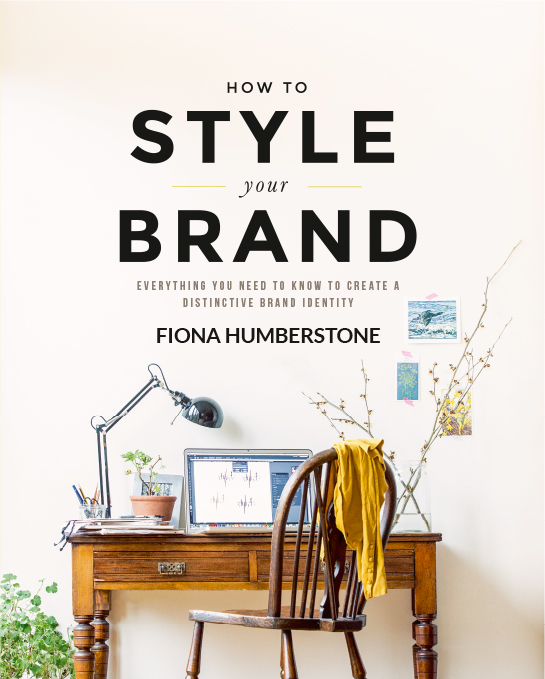 And breathe... What a month it's been! I'm thrilled and enormously relieved to say that How to Style Your Brand is now with the printers. It'll be back in the UK early May and I'm planning on a mid-May launch, hurrah! If you're not already on the newsletter list, do join, won't you? And then I can make sure I send you an invite to the launch party in London.
I'm so pleased with how it's all come together. If I say so myself, the book looks beautiful: not remotely like a business book at all, and that was exactly what I set out to achieve. As soon as I have my advance copy back, mid-March time I'll post some photos so that you can see for yourself. In the meantime, here are some of my favourite spreads from the book. It's hard to narrow it down as I genuinely love each and every one of the projects in the book, but I think that what you see below captures the spirit of How to Style Your Brand.
How to Style Your Brand: Everything You Need to Know to Create a Distinctive Brand Identity
We got there with the title! Thank you so much for all your helpful comments and suggestions and also to my super-talented friend Elizabeth Cairns who helped me develop the final strap line and also the blurb for the back of book. Here's where we got to...
The right brand identity has the power to attract, engage and compel people to do business with you. But for many entrepreneurs, creating an effective brand can be a challenge. Whether you're a start-up on a lemonade budget, or a seasoned entrepreneur planning on working with a professional, an understanding of the process is essential.
In this comprehensive workbook, branding expert Fiona Humberstone will walk you through the process of styling your brand. Find your focus, create an inspirational vision, unlock the power of colour psychology and understand the design details that will make your business irresistible. How to Style Your Brand will ensure you get your branding right, first time.
Drawing on her experience from developing hundreds of brand identities for companies worldwide, Fiona's tried and tested framework will give you the clarity, confidence and creative know-how to create a brand identity that wins you business.
Some of my favourite spreads from the book
I LOVE this brand identity for designer and letterer Jill Smith, which I think pretty much encapsulates what brand styling should be about: distinctive, packed with personality and confidence. The design is by the super talented Braizen, who make a number of appearances in the book. Photography by Brooke Schwab.
This next spread is from the section on getting you focused, because surely that's the point of styling your brand well? Understanding what makes your business unique, clarifying the message you want to send out and making yourself utterly compelling to your most profitable clients? More gorgeous Jill Smith photography by Brooke Schwab and this lovely interior shot from Little Shop of Brands (whose beautiful studio features several times in the book) keep things looking lovely and, I hope, super inspiring as you work through the questions.
My friend Matt did an incredible job on the photography and scores of his light-filled images feature throughout the book. We had a lot of fun shooting and styling everything and I am so grateful for his hard work and commitment to producing something incredible.
Throughout the book I've pulled out some gorgeous case studies in the form of Brand Stories. This one comes from the awe-inspiring Stitch Design Co whose work is always creative and thoughtful. You'll find plenty more projects from Stitch in the book. Produce Candles was photographed by Sally Sullivan photography.
As well as suppling some, well, brazen and bold projects for the book, Braizen also sent me some shots of their studio, like this one below, shot by Anne Almasy. The logo below is by Caava Design for Whoa Nelly. I fell in love with this project the moment I saw it on Pinterest and was thrilled to have this project, along with a few others from Caava Design, including a fabulous project for a distillery, in the book.
Family has always been important to me, and it was great to incorporate something personal into the book: type books from my father in law, who is a traditional sign writer based in the North of England.
Finally, just how gorgeous is this project for Holli Thompson? A creative collaboration between Marta Spendowska and Viewers Like You with photography by Chelsea Fullerton.
It's been so hard to narrow down the spreads to show you. The book features more than 30 super-talented brand stylists, 60+ small businesses and 17 photographers. Quite a creative endeavour! Each of them are seriously talented and I know you're going to love the projects they've submitted. I can't WAIT to share more...
Now available to preorder in the UK
How to Style Your Brand is now available for preorder on Amazon.co.uk. I'm also working on getting it into Amazon.com as I know that many of you are based in the States - watch this space, I will get it sorted! For those of you in other parts of the world, my plan is to make the book available from my website and I'll ship to you direct. I should have that set up in the next couple of weeks.
Thank you so, so much for your support, encouragement and patience throughout this journey. It's meant so much. At times it's been really tough and tiring to keep going. Producing a book is an intense process and I had underestimated how much time it would take and also how much it would totally obliterate my mind. I literally couldn't think of anything else! Now that the book is with the printers, normal service will resume. Expect helpful blog posts very soon!