How to choose the right hand lettering style for your brand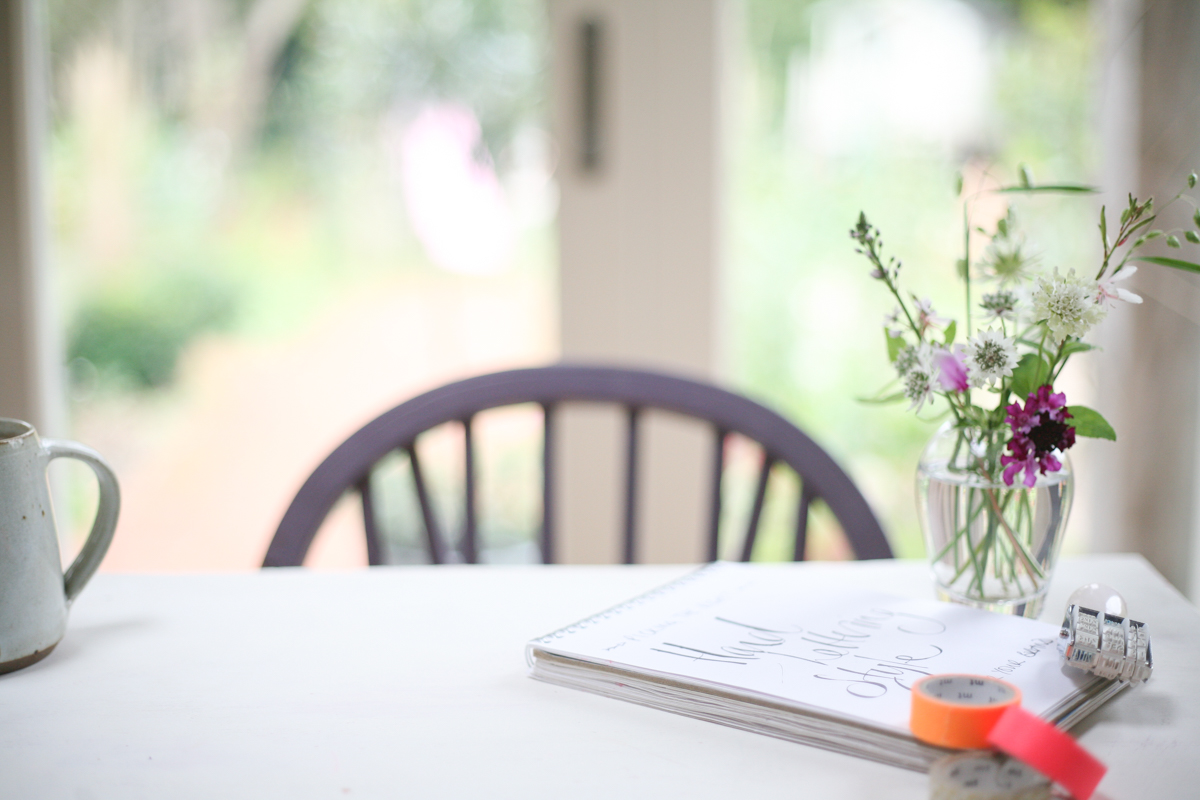 I wrote a post a few weeks back on my love for hand lettering and judging from your response across social media I'm not the only one to be smitten by this trend! Hand lettering is popular for a very good reason: it adds character, personality and flair to your brand identity. And whether you choose to incorporate it into your logo or simply on a banner on your website or across your packaging it's definitely exploring giving it a place in your brand.
So how to go about picking or reviewing the right style? Whether you're up for having a go at creating your own lettering for your brand, or you simply need a framework to be able to review the work your designer sends you, it's important that you can look at hand lettering objectively, evaluate what works about it for you and also what doesn't.
Every handwriting brings with it a certain energy: expressive, flamboyant and confident; calm, quiet and measured; studious, diligent and dependable and so on. Being able to read the energy in a lettering or typeface and translating that into something that'll work for your brand is a skill that you can develop over time. Here's how. Oh, and although I've focused on hand lettering here, it's just as relevant to every typeface you pick for your business.
Start with getting focused
Almost everything I advocate in brand styling starts with focus. What's the point otherwise? You've got to be clear about what you want to communicate before you even begin to look at fonts or someone to work with because only then can you make meaningful choices that will add to your brand.
Think about what you want to be known for, what makes you different to the competition, who your clients are and what they value about what you do.
Next up, think about the balance of your brand identity as it is right now: what should the lettering do for you?
I'm currently working on a project with a client who is having her brand identity overhauled and a new blog design created. She is working with an incredible designer who has hand lettered a stunning logo for her and I've been objectively reviewing things at each step of the way to ensure everything stays on track. What she found mind-blowing was the subtle nuances a curve or sweep of a letter would have on the energy the logo as a whole communicated. The details really matter so look closely at what is being communicated.
Reading the energy in hand lettering
How cute is this? The spacing keeps it light and whimsical whilst the loops feel approachable and friendly. A neat little dot over the i and a very precise cross through the t's keeps this feeling fairly still and self assured without feeling too extrovert or flamboyant. It has a gentle quirkiness about it which is just lovely isn't it?  A little bird by Belinda Love Lee. I've only just discovered Belinda and I like her work very much. Take a look at her blog which is peppered with pretty hand lettered projects.
I'm a huge fan of Lauren Ledbetter's work. She recently updated her website which is just gorgeous but I had to share her old logo with you. The style used for her name is so graceful and elegant isn't it? Do you notice the gentle energy flowing through the letters? And the strap line underneath with it's airy spacing and capital letters just grounds the whole thing and shows that she absolutely means business.
This editorial style calligraphy by Ylva Skarp would work fabulously for a fashion business wouldn't it? I love the energy that's in this. The fast sweep of that 'y' in you and the loop into the 'o'. Notice how fast and irregularly this has been written: this anti perfectionism is so compelling isn't it?
Is it just me or does this have a hint of the Bloomsbury about it? Intelligent, slightly masculine and most certainly sure of itself. How might this style work for your business? Thoroughly in love! Originally featured on Wit and Delight this is a Julia Kostreva print.
How cool is this project for The Girl and The Bull? Despite the girlish loops the rough translation of this logo stops it being remotely soft or naive; it's friendly, approachable but certainly very sure of itself and that makes it very appealing indeed.
Love how they've balanced the hand lettering with bold, clean type on the menu to give real impact.
I could go on and on with this, such is my passion for hand lettering and the super talented creatives who are both featured here and I have encountered via Pinterest, but I hope that it's given you a bit of an insight into what to look for when you're reviewing hand lettering and how to work out what will work for your brand. I'd love to know, which style do you feel would be right for your business, and why?