How Gooseberry Moon styled her brand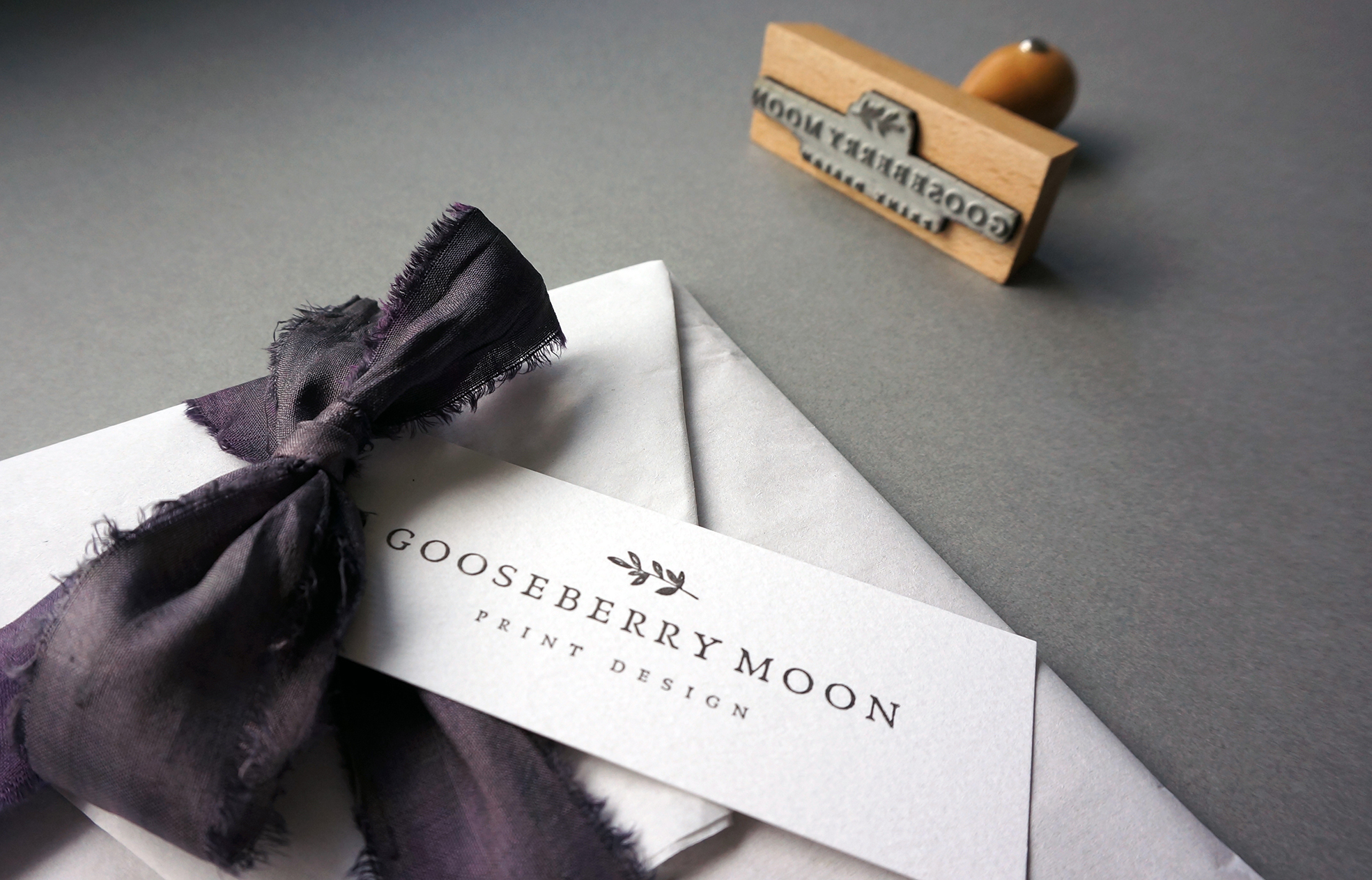 If you're currently rebranding or styling your own brand then I hope you're going to love today's blog post. It's a very beautiful insight into how to style your own brand. When I spied the new brand identity for Gooseberry Moon on instagram I did a little skip and a jump. Nicola had used the process in my book, How to Style Your Brand to keep her on track and create an identity that really does her work justice and what you see here really encompasses everything I'd hope the book would achieve. The identity for Gooseberry Moon is distinctive, aspirational and unique, it's just gorgeous.
I'm thrilled that Nicola agreed to share the process of styling her brand with us, and I hope that if you're in the midst of branding your business she inspires you to push on through and create something fabulous for your own business.
1. First things first, tell us about your business.
I'm Nicola Jones a print designer based in North Wales. I first started Gooseberry Moon as a creative outlet at the end of 2008 alongside my day job. In 2012 I quit my job to dedicate more time to my business whilst raising my two children.
I design paper goods for weddings and everyday with a 'less is more' aesthetic.
All my designs are created from my hand-drawn illustrations which are then digitised and combined with my favourite design elements including colour, pattern, typography and hand lettering.
2. What prompted you to restyle your brand?
As a self taught designer I sometimes feel like a bit of a fraud and it's taken me a long time to finally feel ready to be taken seriously, and I wanted a brand image to reflect this.
When I was looking at my old branding there wasn't any cohesion either. As a designer I always have a new favourite pattern or the latest trendy font I want to use. Things started to look amiss but I wasn't sure why until I went through this process.
3. I think many of us can relate to that! It's easy to let the focus of your brand 'creep' as time goes on isn't it? How did you find the process?
I loved the whole process, there were so many lightbulb moments!
When I first received my copy of How to Style your Brand I read it from cover to cover in a few days and then methodically worked through each and every section.
4. Was there anything in particular you found helpful?
The whole book was helpful but if I have to choose one thing in particular it would be the section on Seasonal Personalities. This is where it all fell together for me; the colours I chose, the illustrations I drew and the fonts I've used. I now love looking at other brands and assigning them a season.
5. Hurray! It's pretty addictive isn't it? How long did the process take from start to finish? And how did you manage to fit it in around the day job?
It took around 4 months. I've been really busy with wedding work all year so I was working on my branding any spare evening I had and grabbing the odd hour whilst sitting outside ballet and swimming lessons. I had a few weeks off in the summer holidays so this was when I did the final push of getting all the elements together on a brand board ready to get peoples opinions.
6. I think that's really good going. Designing your brand around other commitments always takes a while. It sounds like you kept your momentum going. What did you find most challenging?
Without a doubt, it was deciding on a logo. After researching the brands of various businesses I admire and trying to work out what I liked and disliked, I became torn between beautiful flowing modern calligraphy style logos and clean, simple, timeless font logos. So I designed one of each!
I wrote the hand lettered one so many times until it was as close to perfect as I could get. And for the font version I searched until I found an elegant serif and paired it with one of my leaf illustrations. I showed both versions to various people including fellow designers, friends and family. The opinions were split 50/50. I knew neither were wrong I just needed to choose. My heart wanted the hand lettered logo that I'd spent hours perfecting and my head was saying the simple serif logo was the way to go.
After evaluating my design work, going back to my branding brief to remind myself of how I want to be perceived and the type of customers I want to attract, it became clear that the simplicity and timelessness of the font logo was the right choice.
7. Your logo is just beautiful. Personally I think you made the right choice. It's early days but what impact have you found the branding is having on your business?
I've had lots of compliments which is always nice.
The biggest impact so far has been on how I now feel about my business.
It now looks like a brand I would admire and is a better reflection of the quality and style of work I want to be known for.
8. Isn't that such a great point? When you're proud of your branding you'll attract the right sorts of clients and everything will fall into place. What are your plans for the future?
To keep doing what I'm doing but with more purpose and intention.
I've learnt so much from this process, not only for styling my brand but how I'll approach design projects in the future.
The colour psychology and seasonal personalities will be a huge help towards new wedding stationery designs and for creating more collections of everyday stationery. I've got lots of ideas and plans for new work and now I have a clear vision in which direction I want my brand to go.
9. That's so good to hear. I can't wait to see where you go from here. Where can we find you?
I'm mostly on Instagram and Pinterest. You can occasionally find me on Facebook and Twitter. Also at my website gooseberrymoon.co.uk
Ps. I found Nicola's design because she tagged her image #thebrandstylistbook and also copied me @thebrand_stylist in - please do share your progress and tag me, I'd love to share more posts like this.