A new website is on the way for The Brand Stylist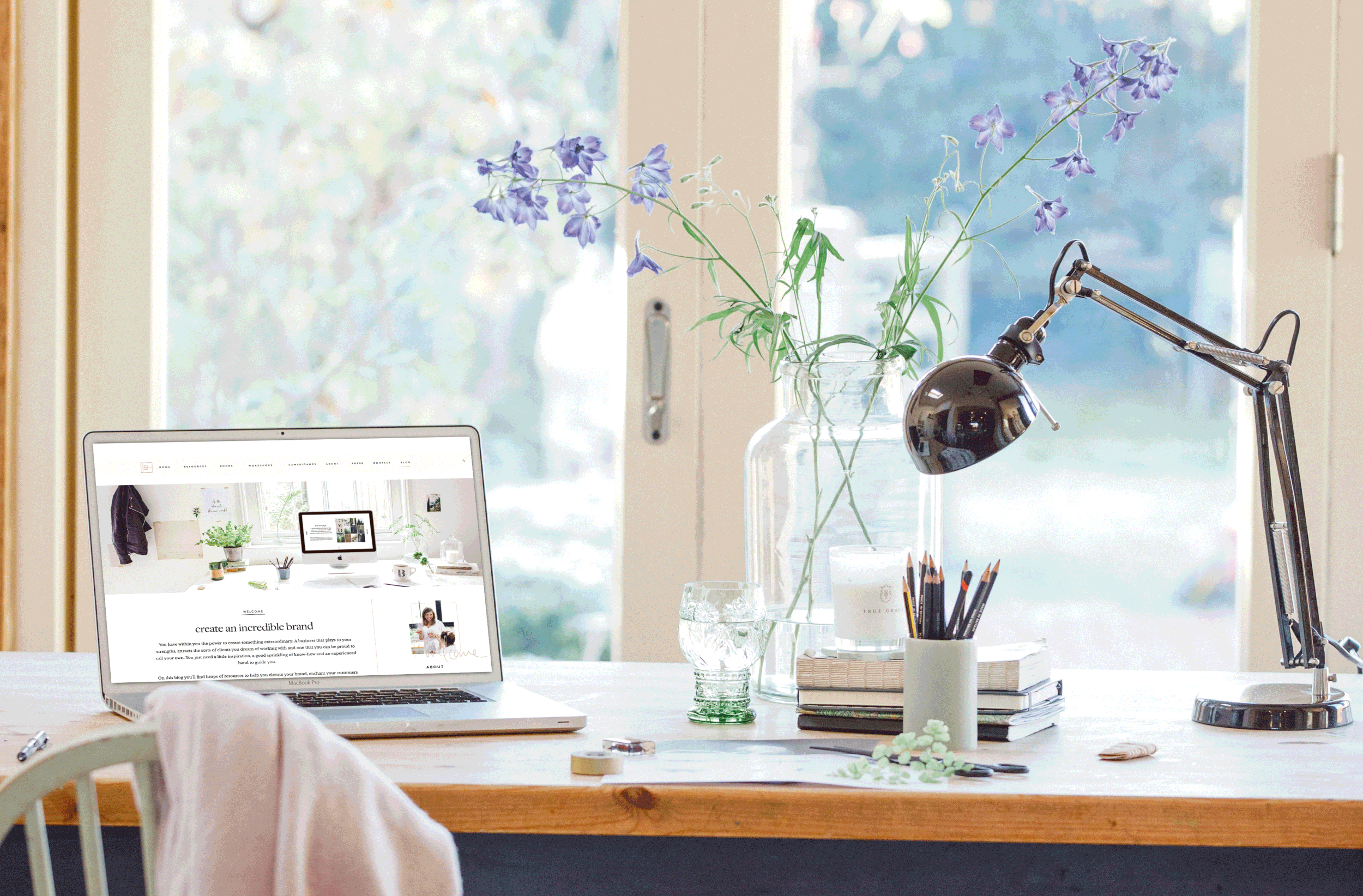 As you read this I'll be scurrying around behind the scenes adding the last bits of content to the new website for The Brand Stylist. It'll have a much fresher, lighter and more modern look. Things like the resources will be easier to locate and the whole thing will be totally on brand as this time, I've invested in a fully bespoke design and build. I can't wait to get it live! In the meantime, I thought it might be interesting to share a behind-the-scenes tour of how the design came to be. As you know, over the past few years I've started to think much bigger about The Brand Stylist and the truth is, I had outgrown my off-the-shelf theme.
Planning the new website
I started by exploring what was working, what wasn't and what I wanted to achieve with my new website. Simple things: like making sure the resources were all easy to find and ensuring my latest workshops were clear was one. Another was definitely to elevate the design The design of the blog right now is fine. But it isn't as beautiful as it could be. And I found that annoying. I also wanted to bring all of my offerings: books, workshops, retreats, consultancy to one place. So as soon as this website is bedded in, it's very likely I'll napalm the Fiona Humberstone consulting website, as all my business is now done through my limited company. And who really wants to manage and update two websites. What a pain!
As well as thinking about what I wanted, I thought about the sorts of questions I was commonly asked through the website and whether there was anything we could do in terms of the structure or functionality to streamline things for you and I. And obvious one was making it clear where all regular resources are for each book. Another was adding some FAQ's and press page (on the to do list) to ensure I wasn't having to send out the same information again and again.
Once I'd brainstormed my goals, I worked with my friend Caz Harrison to explore creative ideas. This was an amazing session. I did the design work but I haven't really kept up with web design trends, which move in at a frighteningly fast pace. Caz does this sort of thing day in, day out and so she had a gazillion ideas to share: like the unusually shaped content blocks on the homepage.
Creating the wireframe
The next step is to wireframe and I can't stress how important this is. Wireframing allows you to put your focus in the functionality and, crucially, your customer. Without any design distractions, you can focus on how you'll structure the site, how your clients will move around it and what needs to be most prominent.
In my experience, this is something that's often overlooked but to the massive detriment of the success of a site. Once all the images and the pretty colours are in it's easy to get distracted into how gorgeous everything looks and miss something essential. It's much easier to shift things around at the wireframe stage than it is to squeeze something in once the design is almost signed off.
I designed my wireframe in InDesign, simply because that's where I work the fastest and most often, but you could use any programme, or indeed, just a piece of paper and pen. What really matters is that you think about how you want things to work. Here's a snippet. If you're interested, you can download the THE BRAND STYLIST WIREFRAME here.
My tips for redesigning your own website
If you're redesigning your website right now, I'd really recommend you take some time to think about how you want your customers to use and respond to your website before you commission a designer. In Brand Brilliance you'll find a whole planning process for this which I know you're going to love.
Take some time to get some inspiration for what's trending in website design right now. I love to use Pinterest for this but Dribble and Bechance are also great sources of inspiration. Here's my Pinterest board with my initial ideas.
Pick your partner carefully. A great web designer will have a solid appreciation of how to make your brand look fabulous, how to ensure your customers ache to work with you and they'll understand how to design for the web right now (and believe me, it changes. Often). That's a lot to ask for. That might mean that you need to look further than your wonderful brand stylist - it's a different (but not mutually exclusive) skill set. Look carefully at the website portfolio and look at the attention to detail on the styling as well as how it feels to move around the website. Both need to be right.
You may want to work with a separate web developer, as I did. This means that you can use the best people for the right jobs. I've been working with BWeb who have been amazing in terms of supporting me through this whole build. They've worked incredibly hard and have been really lovely to deal with throughout the process.
Oh, and word to the wise: don't feel you can abdicate all responsibility for this to your web company. Tempting as it might be, the truth is that no one understands your business like you do. No one has as much invested in getting this right as you do, so take the trouble to plan and wireframe at the outset and everyone will be happy.
Anything you'd add to the list?